Questions and answers about BIOS and the BIOS-Repair-Service
General BIOS-Chip Information
What is the BIOS?
How does the BIOS-Chip look?
Where can i find the BIOS-Chip on my Mainboard?
Where can i find Informations about BIOS-Chip-Type and Manufacturer?
BIOS-Chip De-/Installation
What must I consider during the BIOS-Chip-Deinstallation?
What must I consider during the BIOS-Chip-Installation?
The PC don't boot up after inserting the new chip?
Clear the CMOS - CMOS-Reset
Repair-Service
Cash, Remittance, or PayPal?
What must I consider during the dispatch?
Is every Chip-Repair successful?
How much time requires the repair?
Which informations are needed to send my chip to BIOSFLASH?
What is to be considered with the binary BIOS-Update file?
Must a Substitute- or Reserve-Chip be exactly the same model?
What is an OEM-Mainboard?
BIOS-Forum
Find help in my BIOS-Forum
Short for Basic Input-Output System; this is a chip (or set of chips) in your computer that controls how your computer communicates with some of the basic hardware componentes in your system, such as the keyboard, floppy drive, and hard disk. In newer computers, the BIOS is also what supports Plug-&-Play. A buggy or incompatible BIOS is a common cause of problems encountered when upgrading to a new version of Windows.
If the BIOS detects an Hardware-Error, the BIOS gives out a special Error Message and/or special beep-tones.
I can program BIOS-Chips with the following package design:
The exact chip position could be various between different mainboard-types. In most cases you will find a chip which has a colored label (e.g. AMI, AWARD). You can find it (see Picture) very often at the border of your Mainboard underneath the ISA/PCI/AGP-Slots. Another Position, mostly by PLCC-Chips, is on top of the ISA/PCI/AGP-Slots, or nearby the CMOS-Battery.
First, you have to remove any sticker from the BIOS-Chip, because all information are standing directly on the topside of the chip. Many Manufacturers placed their Company-Logo instead of their Company-Name on the Chip. Beside the logo/name you can find the real Chip-Type(e.g.for WINBOND = W29C020, ATMEL = AT49F020, etc.).
Make sure that you unplug your power supply! Before removing the BIOS-Chip, prevent your PC components from Static Electricity! I propose to use a special tool to remove the BIOS-Chip.
You can order/buy these special tools here.
You don't need any tool to insert the Bios-Chip into the socket.
Make sure that you unplug your power supply!
Prevent your Bios-Chip and PC components for Static Electricity!
Take care that the chip socket is clean of dust.
Be careful while inserting the Bios-Chip into the socket:
Bios-Chips in PLCC package design:
The PLCC-Chip and the socket have a marked position on one of their corners.
Bios-Chips in DIL/DIP package design:
The DIL-Chip and the socket have a marked position, on one of their short sides. Be careful, a wrong inserting could damage the Chip and/or the Mainboard!
Plug in the power supply and start up your PC/Notebook.
Enter the BIOS-Setup and load the "Default/Optimized Settings". Save and Restart.
Now, all should work. Otherwise read the following passage.
This could be one of the following reasons:
wrong BIOS-Updatefile
Mainboard is an OEM-Mainboard out of a brand PC
Mainboard has a different Revision number
BIOS-Update file was damaged during Download, Copy, Decompress
defective BIOS-Update file on the Mainboard Manufacturer Website
defective Mainboard
Chip was wrong inserted
no CMOS-Reset
If you have made a Bios update, or inserting a new Bios-Chip, or getting messages like "CMOS Checksum Error", you have to reset the old CMOS-Settings.
Unplug the power supply!
Please take a look into your mainboard manual, or search a jumper nearby the mainboard battery, named like "RTCLR" , "CLRCMOS" , "CLRCMS" , "CMOS_CLEAR" or "Clear RTC".
The CMOS is a battery-buffered Chip, which saves all BIOS-Settings, like Harddisk-Parameter, CPU-/RAM-Timing, Bootsequence.
See: CMOS-Reset instructions for PC-Mainboards and Notebooks

Cash
Sending Cash inside your Delivery is fast, but not very secure. My Tip: crease the bank notes to smaller pieces and put Aluminium-Foil around it. After that, fix it on a piece of paper with adhesive tape.

Remittance
Sending Money by remittance is slow, but secure. Attention! A bank transfer from outside Germany is very expensive (high fees) and you have to add the fees to the normal costs! Secondly it takes a lot of time until the money is on my account (up to 1 week). I will send the chip after i have got the money.

PayPal
Another good type of payment is PayPal. It's fast, secure and you can pay with your credit card (AmEx, Visa, Mastercard) onto my verified PayPal-account.

POD - Pay on delivery (only inside Germany!)
You can also pay per POD, but it's very expensive and only for german customers!
Please don't send chips in boxes or other protection-cases, which are higher than 10-12mm. I'm trying to keep the prizes for distributions low and using the german Deutsche Post parcel-format (l=353mm, w=250mm, h=20mm). So, i can't send any chip-boxes, which are higher than 10-12mm, back to your address.
Protect your Chip: press the chip into a piece of polystyrene and wrap aluminum foil around it: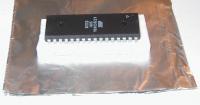 Don't use foam without a hard case around it, because it's too soft and your chip could get damaged.
Stick all (Diskette, Cash and Chip) onto a piece of paper, because if your dilivery would be damaged (throw open), small parts could fall out.
In most cases: YES. By wrong BIOS-Updates, CIH-Virus, Power failure, or if the PC hangs while updating. But, if you have bought a used Mainboard and the first Boot shows a blank/black screen, it don't must be the BIOS-Chip. It could be every part of your Hardware. Please contact first the Mainboard-Seller.
At least, it could be that the Chip is defective and must be replaced. (see also: The PC don't boot up after inserting the new chip?)
I'm using 3 Industrial-Multi-Programmer. If you have send me the cash inside your delivery, i'll often do the Back-Shipment on the same arrival day.
Remember: after your payment has arrived, i'll send you, as soon as i can, the re-programmed chip back to your address.
Chip manufacturer, Chip type, Chip package design
Mainboard type and manufacturer (incl. Revisionsnumber, if known?)
Version or excact Filename of your BIOS-Update, if you want a special older bios version
Address
Email-Address
Use only Updates directly from your Mainboard-Manufacturer, or if you've bought a complete PC by Dell, IBM, Compaq... get it from them. You can find the Mainboard-Manufacturer by using a search engine like www.google.com with the following keywords: "Mainboardtype + Mainboardmanufacturer + Homepage".
The File Extensions could be different, e.g. *.awd, *.bin, *.rom, or only a number. File extensions with *.exe, *.zip oder *.rar, are compressed BIOS-Update files. You can decompress an *.exe-file with a doubleclick. *.zip and *.rar files could be decompressed by programs like www.winzip.com or www.winrar.com.
The Filesize of the decompressed binary BIOS-Update must be the same as the size of your Chip:
128KByte (1 MBit)
256KByte (2 MBit)
512KByte (4 MBit)
1024KByte (8MBit)
...
I don't need any Flashprogram (phlash.exe, awdflash.exe, etc.) to reprogram your chip !
No. Many other Chip-Manufacturers have identically constructed Chip-Types in their assortment. I am using some lists, called "Cross Reference Lists", which were created by most of all Chip-Manufacturers.
These mainboards were in most cases specifically manufactured by a brand-PC distributor (e.g. Medion, HP, Compaq, Fujitsu-Siemens, Dell, etc.), even if the motherboard itself is from e.g. ASUS, MSI, ELITEGROUP, etc.. That means: these so-called OEM-Boards are NOT 100% equal to the same mainboard which you could buy within an original box. Some electronic components are changed, or even removed (eg the 3rd 4th SATA ports or USB ports, or the BIOS-Chips have a smaller memory size as normal, etc.). In most cases these OEM-Boards don't work with the original BIOS versions which are offered by the original mainboard manufacturer. So you have to purchase your BIOS version from the brand-PC distributor.