You can order the following BIOS-Chips (or compatible) in the Online-Shop:

Package type: PLCC-32 (Flash-Eeproms)
AMD 29F040B - 90JF
EON 29F040A - 70JCC
PMC 49FL002T - 33JC
PMC 49FL004T - 33JCE
SST 39SF020(A) - 70-4C-NHE
SST 39SF040 - 70-4C-NHE
SST 39VF040 - 70-4C-NHE
SST 49LF002A - 33-4C-NH
SST 49LF004(A/B) - 33-4C-NH
SST 49LF008(A) - 33-4C-NH
SST 49LF020(A) - 33-4C-NHE
SST 49LF040(A/B) - 33-4C-NHE
SST 49LF080(A) - 33-4C-NHE
ST M50FLW080A K5
WINBOND 29C020 - CP90B
WINBOND 39V040(A/B/C/F)
WINBOND 39V080(F)APZ
WINBOND 49F002UP - 12B
WINBOND 49V002(A/F)

Package type: DIP-8 (Serial-Eeproms)
AMIC 25L016-F
AMIC 25L80P-F
EON 25F16-100Q
EON 25F80-100Q
ESMT 25L008A
MACRONIX 25L1605A
MACRONIX 25L1605DPI-12G
MACRONIX 25L1606EPI-12G
MACRONIX 25L3205DPI-12G
MACRONIX 25L3206EPI
MACRONIX 25L8005PC-15G
WINBOND 25Q128FVIQ
WINBOND 25Q16BVAIG
WINBOND 25Q32BVAIG
WINBOND 25Q64BVAIG
WINBOND 25Q64FVAIG
WINBOND 25Q80BVAIG
WINBOND 25X16(A)VAIZ
WINBOND 25X80(A)VAIZ
BIOS-Chips - Sale and Programmierung - in the following package types:
In the Online-Shop you can buy new, programmed ICs and BIOS-Chips (Flash-Eeproms, Serial-Eeproms), or we can re-program your old chips in the following package types:
Package type
Sale
Programming
PLCC-32 (Plastic Leaded/Leadless Chip Carrier)
Pins: 2x7 and 2x9, curved
Size: 11x14mm, without Pins
DIL-8/DIP-8 (Dual In Line Package)
Pins: 2x4, 90° angled
Size: 6x10mm (300mil), without Pins
SOP-8/SOIC-8 (Small Outline Package)
Pins: 2x4, flat
Size: 4x5mm (150mil), 5x5mm (208mil), without Pins
DIP-24 bis 48 (Dual In Line Package)
Pins: 2x12 up to max. 2x24, 90° angled
Size: variable
My programmers support at this time over 60000 chip types in the forenamed package types.
Order form:
Programming your old Chips
Sale new Chips incl. Programming
Manufacturer, Type and Package type: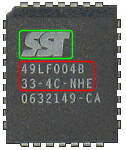 Manufacturer ==> SST
Type ==> 49LF004B 33-4C-NHE
Package design ==> PLCC-32 (2x7 and 2x9 Pins = 32 Pins)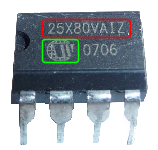 Manufacturer ==> WINBOND (stylized "W")
Type ==> 25X80VAIZ
Package design ==> DIP-8 (2x4 Pins = 8 Pins)
User-Comments: BIOS Chip Type list
Einträge: 21
biosflash 22.Nov.2022 14:38

@Bira - Ubirajara Martins Guimarães
Hi, WINBOND W25Q64CVAIG or the newer W25Q64FVAIG, PDIP-8 can be used.
Bira - Ubirajara Martins Guimarães 22.Nov.2022 14:31

Hello, could you please let me know what is the type of bios-chip in the MB Asus A68HM-K? Thank you very much.
Paul Aziz 12.Aug.2022 17:03

Please I need your assistance. My trying to program my dell precision 3530 bios with Ch314a and neopprogrammer. My bios chip is labeled W25Q80DVSIG but the list of detected ic in neopprogrammer are: 1. W25Q80BL 2. W25Q80BV 3. W25Q80JV Could you please help me identify the right one from the list
SteamPunk-F-123 6.Apr.2022 03:49

Hi, is there any posibility to order some pcs of eeprom, but empty(without programming)? For example WINBOND 25Q128FVIQ.
biosflash 26.Aug.2021 06:00

@Sam
No sorry, but i would guess it's a SOP-8, soldered on the pcb.
Sam 25.Aug.2021 22:27

Hello, please, do you know what BIOS chip is in the SONY Vaio VPCCW2S1E (Bios: American Megatrends R0110Y7)?
Henk 2.Aug.2021 02:48

Do you by chance know what BIOS chip is in the HP Eliteone 800 5g?
biosflash 28.Feb.2021 06:32

@Carlos Rafael Guerra Montero
WINBOND W25Q64BVAIG WINBOND W25Q64FVAIG
Carlos Rafael Guerra Montero 28.Feb.2021 03:52

Q número de chips puedo usar para una placa Asus H81M-E
biosflash 9.Feb.2019 17:21

@Bjorn Hendriks
It's only an unimportant Production code from Winbond.
Bjorn Hendriks 9.Feb.2019 17:12

i have a winbond W25Q64FVAIG and there 4 numbers under it 1544 what do the mean
biosflash 23.Aug.2018 11:31

@harsh Shende
I have the WINBOND 25X80VAIZ in PDIP-8 package in stock.
harsh Shende 23.Aug.2018 07:40

Need chip type 25X80VAIZ
Jahanzaib 11.Oct.2017 14:22

Hi, I want to swap my hard drive pcb bios chip onto donar board. I am confused that there are same 4 legs on the both sides. I want to know what is the correct way to install it. Or i can install any side?? Kindly help
samuel zeze 28.Jun.2017 16:29

I want to know the difference kind of bios chip on difference computer, and also how to quickly identify bios chip on any computer.
biosflash 16.May.2016 15:02

@David scott
Sorry, i have no 39sf070 or compatible.
David scott 16.May.2016 13:21

Looking for sst bios chip marked under label 39sf070-4c 09462 .on label pheonix d686 1998 .came off motherboard marked gcb60-bx can you help dave c scott
guilherme antonio martins 26.Oct.2015 12:27

sou programador de bios,preciso muito deste saite.
gabriel 8.Sep.2015 19:34

i have got a svf14 sony vaio , with a winbond w25q64fvssig chip that i need to reflash after a bad bios update, i would like to know if you have this kind of chip and how much it will cost me to program it and send it to the mexico city